Lady Gaga's Top Five Hairstyles
Regardless of whether you like her music or not, one thing usually pops into everyone's head when they hear the name 'Lady Gaga'; eccentricity. The Queen of quirkiness, Lady Gaga has pulled on and off a plethora of different bizarre, quirky and idiosyncratic styles and outfits. Her hairstyles too have been rather fascinating to keep up with. Here are some of the best... and worst.
The Best...
The Hair Bow
I'll start with the most creative of her hairstyles and the one that has come to be somewhat of a Lady Gaga signature hairdo: the hair bow hairstyle. Seen in the pop superstar's Poker Face video, the hairstyle has been loved, hated and imitated with there even being online tutorials on how to assemble one's hair in such fashion.
Regardless of one's personal opinion of the hair bow hairstyle, it cannot be argued as anything but a pioneering and ingenious hairdo idea.
Bob Hairstyle
Not all of Lady Gaga's hairstyles were as unique as the hair bow. Her bob hairstyles in every variation (other than the disgusting green one) gave the legendary singer a beautifully graceful and elegant look, which in comparison to some of her other hairdos at least, spelt out simplicity.
And now for the worst...
The Hair Hat!
Of course, the hair bow wasn't to be the last time Lady Gaga styled her hair in the shape of a physical accessory. The hair hat wasn't as subtly creative as the hair bow and if we're being perfectly honest, looked horrendous. In fact you'd do well not to cringe while looking at the picture below.
Back of Head Shave
Now, it must be stressed that the perspective of best and worst Lady Gaga hairstyles is purely from a fashion viewpoint. When Lady Gaga shaved the back of her head in mourning for the passing away of Terry Richardson's mother in September this year, few could fail to admire the selflessness of her tribute – for we all love our hair dearly.
However, from a fashion perspective, it of course didn't look pretty.
Bald
Whether you believed she was wearing a bald cap or not, Lady Gaga's bald hairdo (if you can indeed call it a hairdo) came as a dumbfounding surprise when revealed at her performance on the Paul O'Grady Show.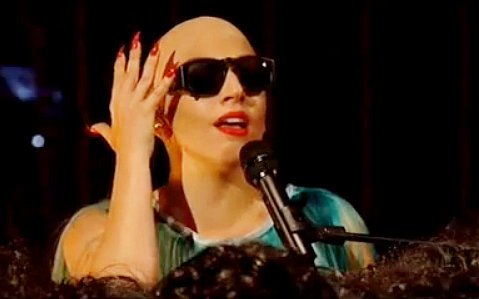 Now the bald look is one that few women can pull off and the pop icon indeed actually pulled it off better than most women could. However, it still has nothing on some of her other hairstyles and therefore goes down as one of her less fabulous dos.